Working from a single source of truth (SSOT) requires the ability to collect data from across your organization and aggregate it into a central repository so that every data element lives in one place. As it pertains to leave of absence management, ensuring one system is capable of facilitating, tracking, and housing all critical information for every employee's leave regardless of leave type is critical.
Tilt's holistic leave management solution creates a single source of truth for all leave types in all 50 states so that information isn't siloed between People Teams, payroll, the employees' managers, and the employees taking leave themselves. Regardless of the leave your people need to take, Tilt makes it easy to support your people while keeping you organized and compliant.
Here's how we do it:
One Platform + All Leave Types = A Consistent Experience.
Whether your employee needs to take maternity leave in Mississippi or a medical leave in Delaware, Tilt provides a single-source experience for you and your people to ensure a successful and supported leave. When you log in, you'll see a dashboard where you can get an overview of all your employees on leave at any given time: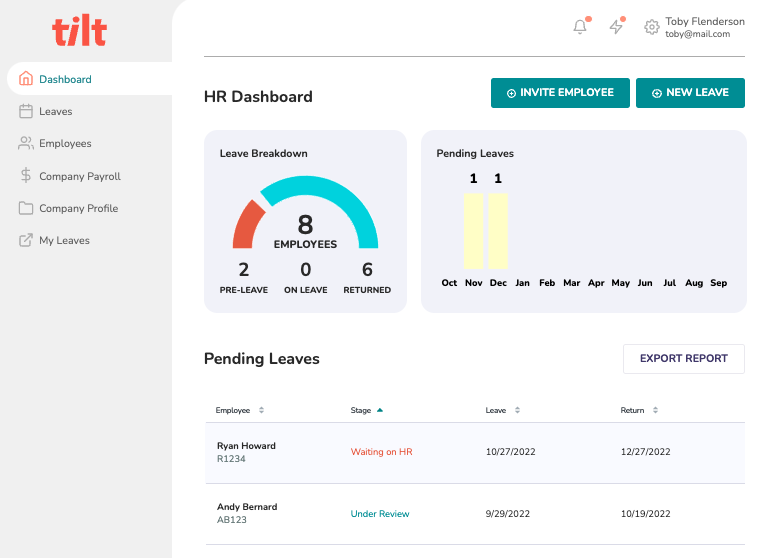 With Tilt, you can manage a straightforward continuous maternity leave and a complicated intermittent medical leave all in the same platform. Having all leaves under one roof makes keeping track simple and efficient, and empowers you to provide a consistent and compliant leave experience for your employees.
Safe and Secure File Storage
One of the biggest risks of not having a single source of truth for managing leaves is having private employee information scattered in multiple places. Maybe you have some documents saved in a shared Google drive folder, perhaps others in an inbox that you'd have to scroll and pray you can find. Tilt allows employers and employees to upload important documents that may be required to facilitate a leave and keep them in an easy-to-access repository for you.
We take security seriously at Tilt, so rest assured that regardless of the leave type your employee takes and the associated forms and paperwork they need to fill out, everything will be provided and stored within TIlt for a safe and secure single source of truth for your employee's information.
Stay Up to Date, Don't Get Out of Touch
We pride ourselves in a holistic approach to leave of absence management, so while your leave requests may be coming in from all angles, we keep you up to date with what's going on with your employees' leaves all within the platform. Tilt takes the load off your shoulders while allowing you, your payroll team, and your employee's manager to quickly keep tabs on what's going on (note: managers and payroll only see what they need to have access to see)
Having one source of truth for all leave types ensures that the proper stakeholders are all working from the latest and greatest information and the experience is consistent across the board.
Any time an employee requests a leave with Tilt we create a personalized leave plan just for them. Logging into TIlt they'll see all the steps they'll need to complete, provide information about their leave (their managers also get this), and guide them for a successful leave journey. Tilt eases the administrative burdens of People Teams by providing an integrated view into everything they'll need to successfully manage a leave, regardless of the leave type or what state the employee lives in.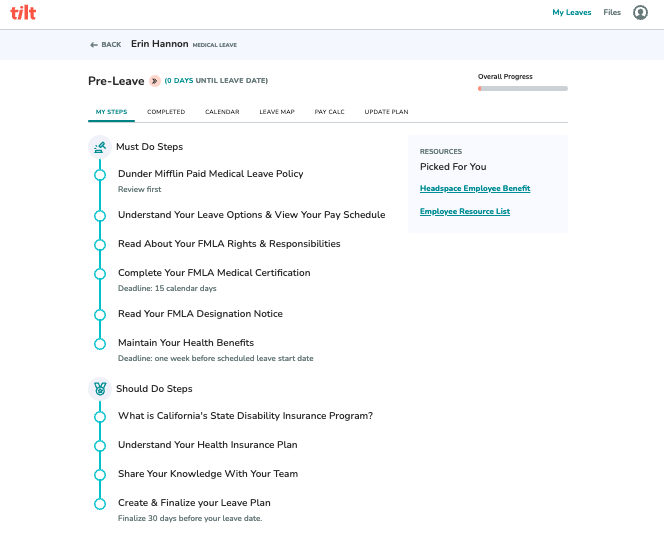 Having a single source of truth for all leaves will give you the power to quickly provide a consistent experience for your employees going on leave. This is more than just a convenience factor, as there can be legal implications if two employees in two separate states take the same leave and leave policies aren't applied consistently. Being able to manage all leave types with one solution makes your life easier, and it also keeps those potential compliance pitfalls at bay.
Tilt knows how important the payroll function is when it comes to managing leaves, which is why we make it easy for payroll teams to quickly access payment information for their employees on leave. We make sure payroll data stays accurate and up to date regardless of how your employees might be receiving compensation for their leave (i.e. covered entirely by the company, covered partially by short-term disability benefits, or not covered at all).
No matter the leave type or the complexity of their payment situation, we make it easy for employers to see how much and from what source their employees are getting paid.
A Single Solution for Your Single Source of Truth
Tilt gives you the luxury to smoothly manage all of your employee leaves for any type of leave that might come across your desk, no matter what state they live in. Having a single source of truth for all of your leave management needs keeps you compliant, organized, and in the best position to provide consistent and positive leave experiences for your people.
Tilt is leading the charge in all things leave of absence management through easy-to-use tech and human touch. Since 2017, our proprietary platform and Empathy Warriors have been helping customers make leave not suck by eliminating administrative burdens, keeping companies compliant, and providing a truly positive and supportive leave of absence experience for their people.