As the saying goes, the only thing constant is change (and the irresistibility of puppy videos). As workforces disperse and leave laws evolve, Tilt keeps organizations compliant through easy-to-use software flush with all of the latest leave law information built-in. 
Our platform is backed by in-house FMLA, and Labor and Employment attorneys, leave payroll specialists, ADA specialists, and state leave specialists meaning with Tilt you can cancel the late-night Google searches and put your compliance fever dreams to bed no matter what wonky leave situation arises (we've seen it all), or which state your people live and work. 
Here's how we do it: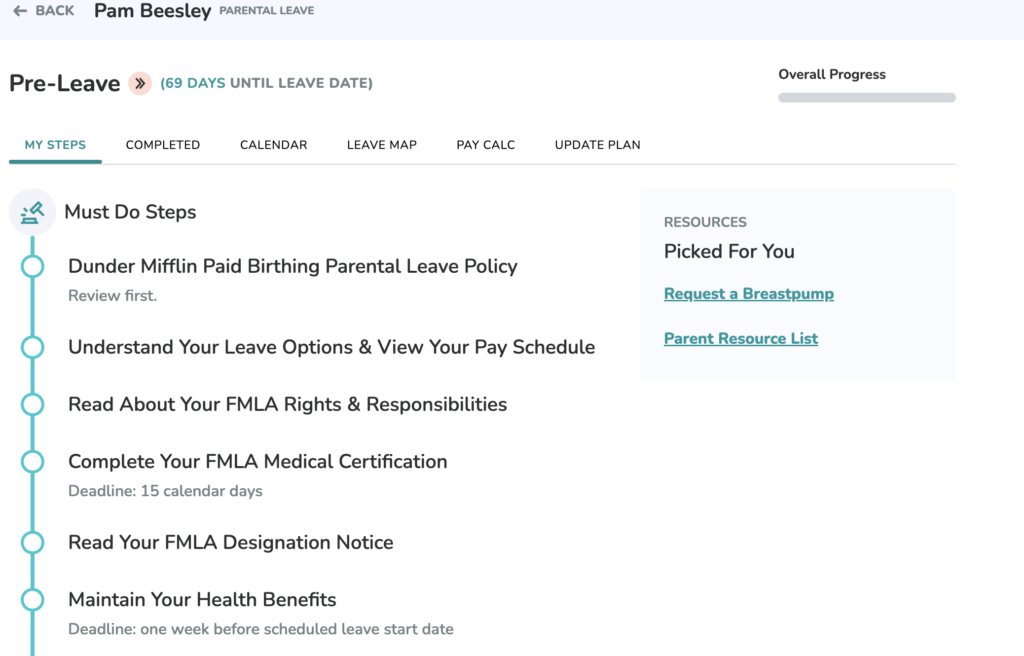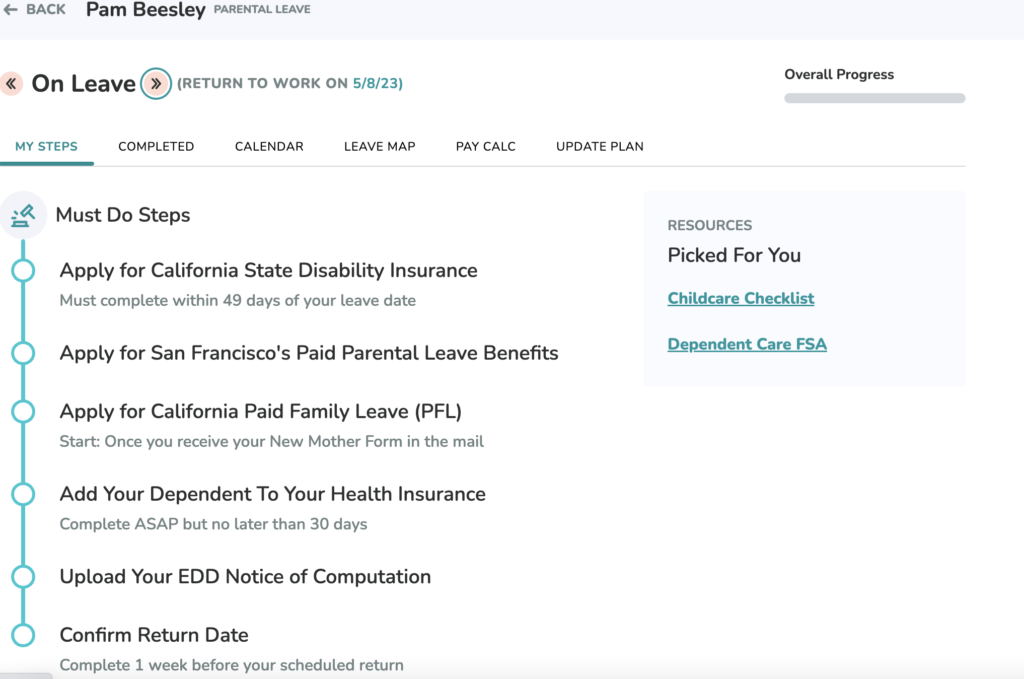 Every employee who starts their leave journey with Tilt will be guided step by step through a personalized leave plan with the most up-to-date leave law information specific to their type of leave and the state they live in. From this dashboard, employees will get a breakdown of their company's leave policy, as well as information on their FMLA rights (if eligible…Tilt determines this automatically, btw), information around important health benefits and form submittal dates and more. Everything an employee needs to achieve leave success while ensuring compliance.
We could stop there, but of course we don't, because we also provide additional information for employees to equip themselves with a more robust understanding of their personal situation. In this example Pam Beesley lives in San Francisco, so we provide information on CFRA, PPLO, California's State Disability Insurance Program and more.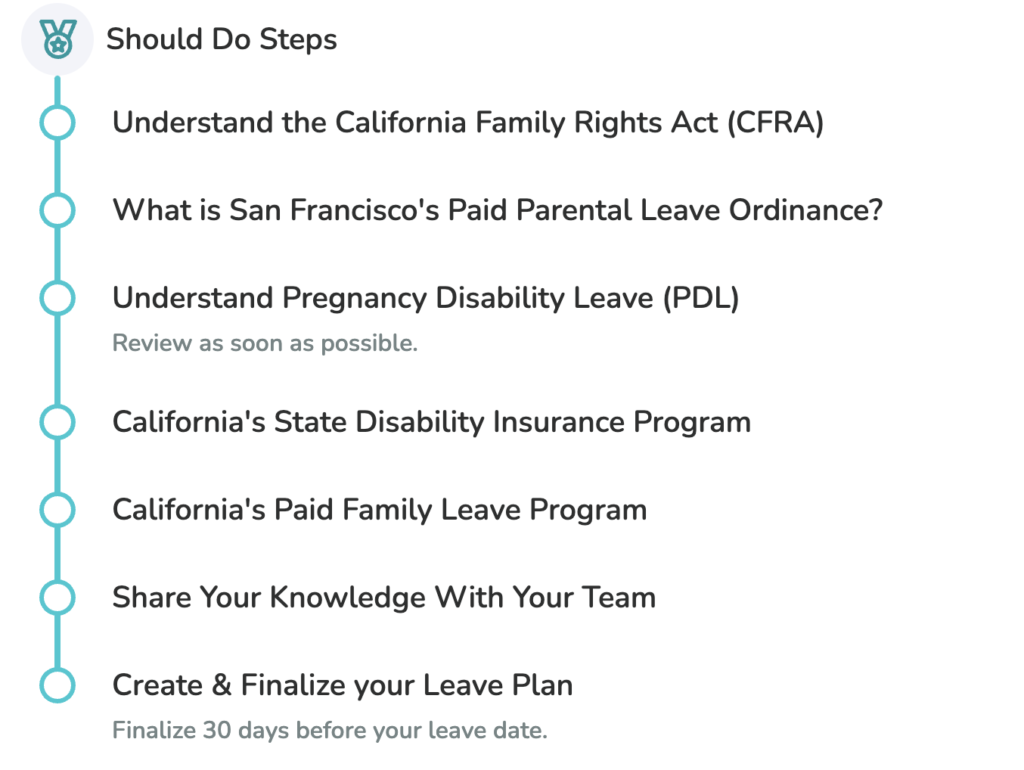 Private and secure personal information
The LOA process requires employees to provide a lot of sensitive information; information that managers don't need to see and if included in loose email threads could expose you to legal risk. With Tilt, all forms and files are conveniently housed within the platform where only HR and the employee themselves can access them. 
No more sifting through risky email threads or digging through a desktop folder labyrinth to access the information you need to ensure you and your people are compliant. Protecting employee data is Tilt's top priority, which is why we make the storing of important information safe, simple and secure.
Push notifications & reminders
You're busy, we get it. It can be an organizational nightmare keeping track of multiple leaves and what needs to be submitted when and for what state, especially when requirements are so often in flux. You might sense a theme, but we've got you covered there too.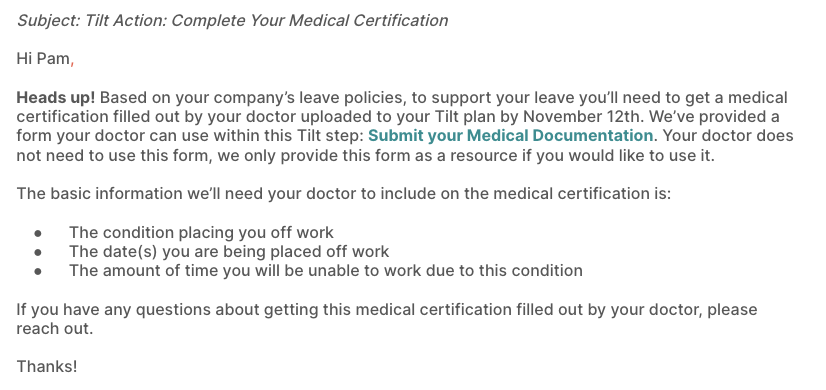 Educated managers kept in the loop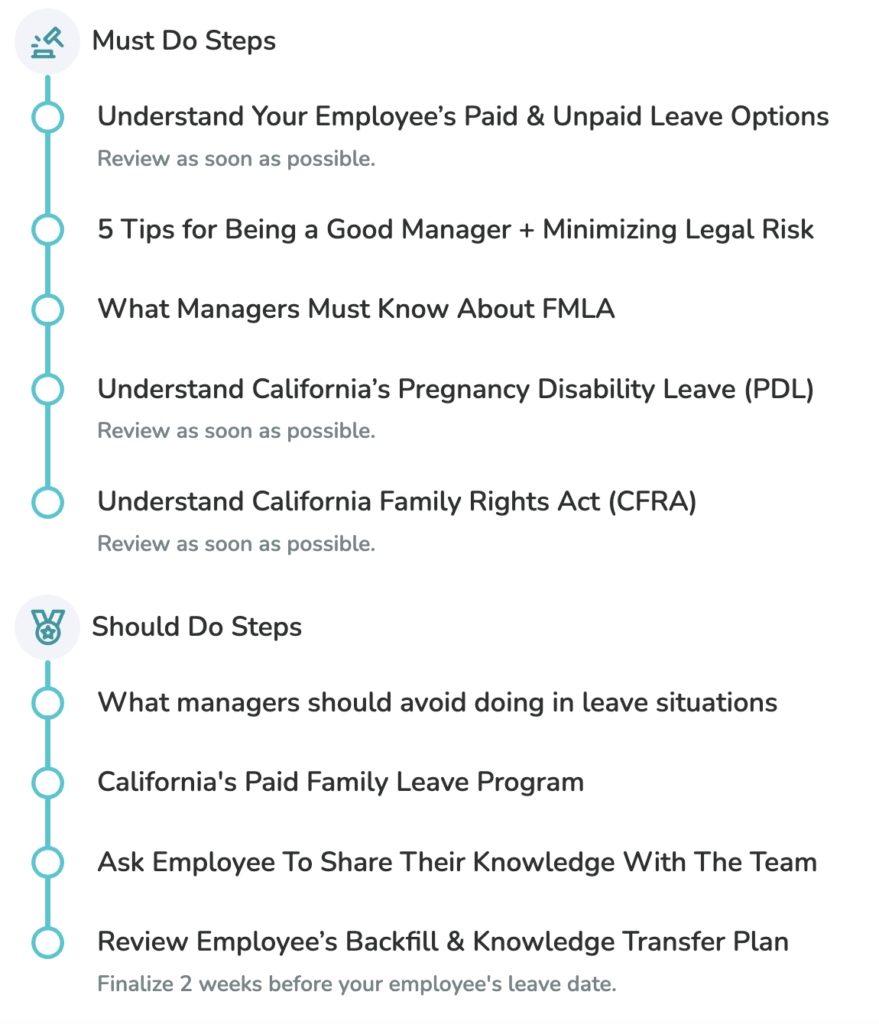 Managers are the leading cause of employment law violations, but with Tilt your organization doesn't have to be a statistic. When an employee starts their leave journey in Tilt, their manager is also brought into the process. Each manager will be given information on their employee's specific type of leave, information about FMLA, state-specific programs and more.
In addition to that, we include best practices on what a manager can and can't do or say as it pertains to their employees on leave, meaning with Tilt you avoid the sour taste of those foot-in-mouth moments from managers.
With Tilt you can rest easy knowing that our expert-backed leave law engine keeps you on the road toward a positive and compliant leave experience for you, your employees taking the leave and their managers. 
Even the most unique leave of absence scenarios can be handled by our tech and touch approach to LOA management, so no matter the state or the sitch Tilt keeps you compliant.
Tilt is leading the charge in all things leave of absence management through easy-to-use tech and human touch. Since 2017, our proprietary platform and Empathy Warriors have been helping customers make leave not suck by eliminating administrative burdens, keeping companies compliant, and providing a truly positive and supportive leave of absence experience for their people.