The phrase, "You're only as strong as your weakest link," has meaning beyond kitschy early 2000's game shows and the trauma some of us experienced getting picked last in elementary school kickball games. Your leave management solution is no different. Your ability to support your employees taking a leave of absence is only as strong as the totality of leaves your current solution can support. If you can't manage all types of leave today, you're leaving yourself vulnerable to compliance issues, disgruntled employees, and sleepless nights Googling leave laws in states you've never been to.
Tilt supports all leave types so your leave management game stays simple, supportive, and strong no matter what requests come across your inbox.
Here's how we do it:
Intuitive Tech Backed By Human Experts
Empathy is woven into everything we do at Tilt, and the humans behind our code don't only live and breathe leave, they're supported by in-house leave law, payroll and compliance experts to ensure that you're covered for every leave type in every state. When an employee living in San Francisco has a leave entered into Tilt, for example, you don't have to worry about whether there's a city ordinance requiring employers to supplement paid parental leave benefits [spoiler alert: there is], or the latest pay reimbursement percentages that need to be factored into pay calculations. We make it easy for your people.
Tilt creates personalized leave plans for every employee taking a leave of absence, regardless of leave type, and the empathic support you feel from Tilt doesn't end there.
A Consistently Smooth Leave Journey Even for Complex Leaves
Inconsistency when managing leaves can have a serious impact on your efficiency (and can cause potential compliance implications…more on that here). At Tilt, we ensure you're able to manage straightforward parental leaves with the same level of service as a complex leave that goes sideways. 
While tech features like an automated FMLA process make life easy for everyone across the US, it's our dedicated team of Leave Success Managers (AKA Empathy Warriors) that are at the ready to guide your people through their journey should complexities in their leave arise and they have questions. We're more than just tech, we're tech with touch!
Preparation and Education
Do your managers know the ins and outs of intermittent leave? Do they know what they can say to an employee on leave in California while they sit in their Dallas HQ? Tilt not only makes the leave journey simple for all leaves, we provide resources that make it easy to educate the necessary parties on what a particular leave means and what to expect.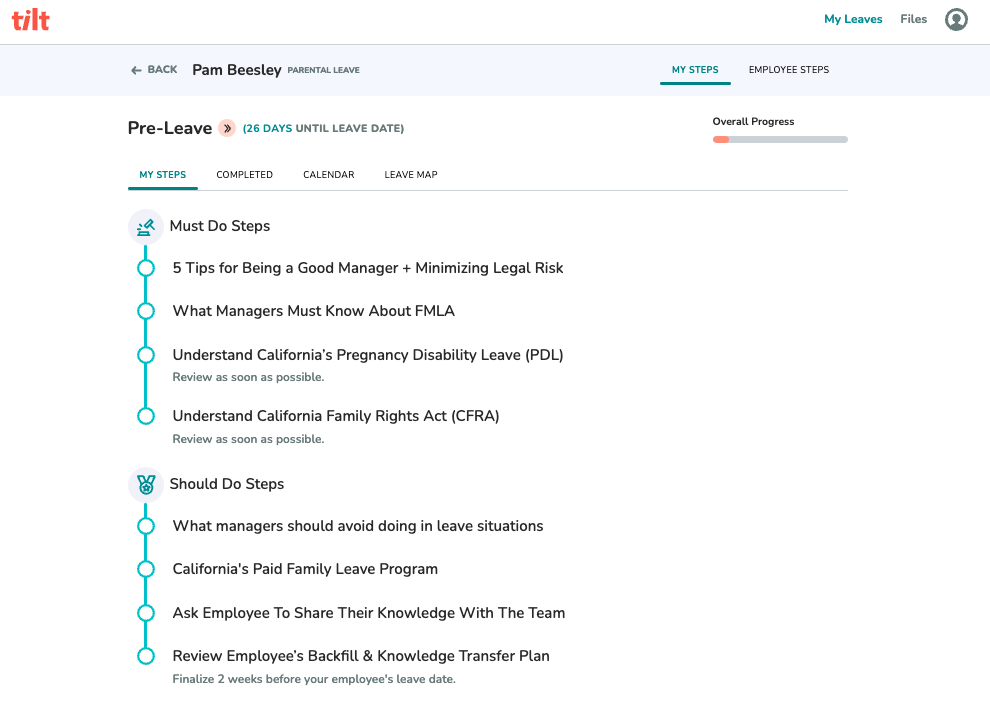 When it Matters Most, Leave the Leave to Us
Managing leaves in multiple systems is a nightmare for overworked People Teams just trying to make it easy for their people to transition from work to life, and back to work again. Managing a leave of absence is more than just getting employees out of the office and bringing them back in, it's about demonstrating that your organization is there for them when they need you most. 
Tilt takes the complexities of managing leaves and creates a supported environment for all parties involved. Make leave not suck with Tilt.
Tilt is leading the charge in all things leave of absence management through easy-to-use tech and human touch. Since 2017, our proprietary platform and Empathy Warriors have been helping customers make leave not suck by eliminating administrative burdens, keeping companies compliant, and providing a truly positive and supportive leave of absence experience for their people.