As much as we wish it were true, squeezing stress balls and raking the miniature zen garden on your desk isn't going to alleviate your anxieties around managing different types of leaves of absence. Complicated leave laws and expanding State and Federal programs all fall on the shoulders of overworked People Teams to effectively manage, but with Tilt, doing so no longer has to be a multi-system cluster (redacted) that spikes your blood pressure. 
Comprehensive Coverage at Scale
Tilt reduces People Team anxiety by providing a comprehensive leave management solution that scales as you do. "Comprehensive" doesn't just mean taking the most tedious tasks off your plate, but it's also comprehensive in the types of leaves Tilt makes easy to manage. Whether you're managing a maternity leave in Mississippi or a medical leave in New York, your employees will have a consistent and fully supported leave the moment they log into Tilt.
All of the information your employees need for a successful leave, regardless of leave type, exists in their customized leave plans. This is a huge win for your people, and a massive administrative lift off your shoulders. As your company grows and your leave requests rise, you can rest easy knowing your people are covered.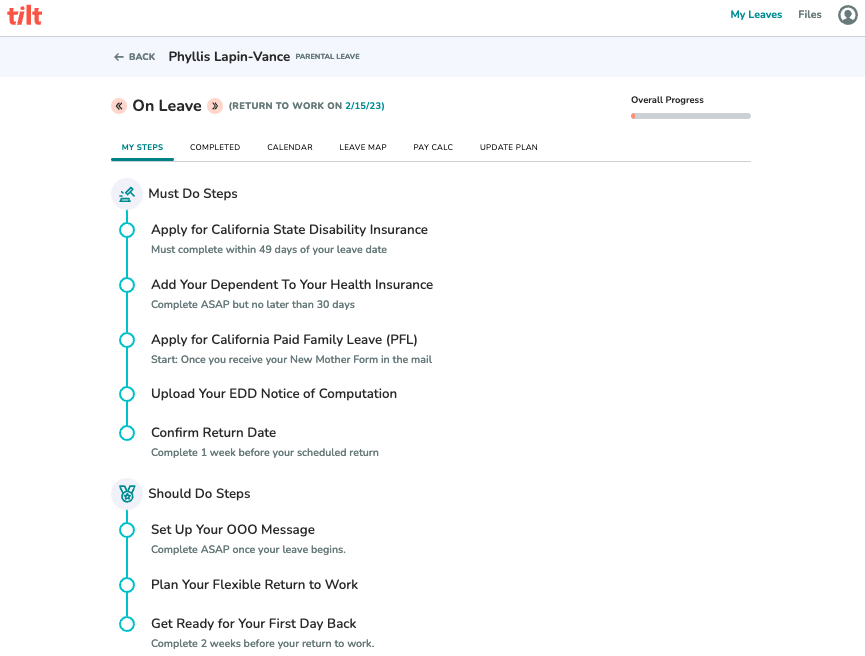 Tilt's platform walks your employees through submitting claims as well. So if you have one California employee taking FMLA, and another needing California's Pregnancy Disability leave, both can be managed and tracked within the same platform. Further, we have dedicated Leave Success Managers who help your employees each step of the way should they need it.
No more managing the leave for employee "A" in one platform and employee "B" in Excel. With Tilt, all of your leave management needs are kept under one (digital) roof.
Mo Leave Programs No Problems
Tilt's leave law engine is powered by our in-house legal and compliance experts. This means if D.C. has changes to their Paid Family Leave program so parents now have 12 weeks to bond with their baby instead of 8, you don't have to worry about knowing that because we're all over it for you.
Further, as new states implement paid leave programs (we see you Colorado!), we'll automatically include them in your employees' leave plans for you. With Tilt, you'll cut out all those late-night Google searches to discover and understand new and existing leave programs.
Whether your employee has a straightforward maternity leave or needs intermittent medical leave support, Tilt's holistic approach to leave management will have you resting easy at night, knowing your employees will have everything they need at their fingertips for a successful leave.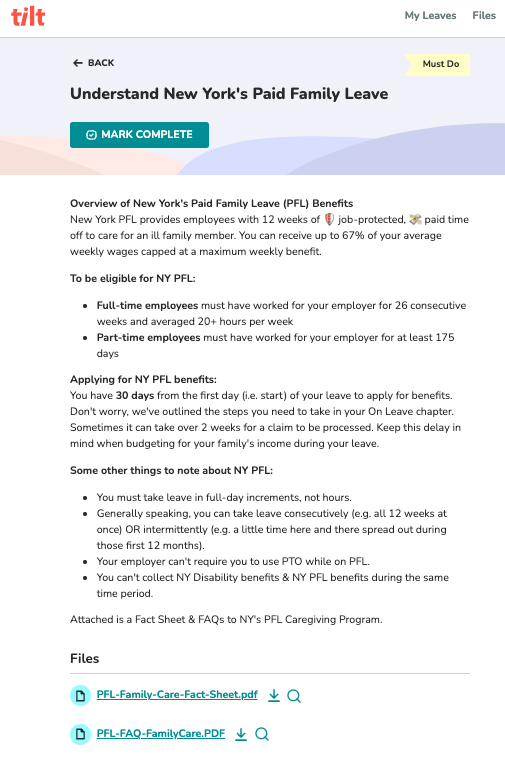 With Tilt you'll reduce the anxiety that comes from managing multiple leave types in multiple systems. By keeping all of your leave management needs within the same platform, we make managing leaves simple for People Teams while delivering a positive experience for your people. 
Whether your company is scaling or your workers are scattering across the country (or both!), you'll need a solution that stays on top of the latest leave laws and burgeoning state leave programs and can support you and your people when you need it most
Tilt is leading the charge in all things leave of absence management through easy-to-use tech and human touch. Since 2017, our proprietary platform and Empathy Warriors have been helping customers make leave not suck by eliminating administrative burdens, keeping companies compliant, and providing a truly positive and supportive leave of absence experience for their people.